Deciding to become a driving instructor was a no-brainer for former web developer Ellis Wood – but qualifying to become one proved to be the real challenge.
Operating across Hartlepool and the Teesside area, Wood has been an ADI since 2016 after establishing his successful driving school Driving with Ellis. Here Wood talks about why he became an instructor, the satisfaction of teaching people a skill that will last a lifetime and what he sees as a serious problem with trainers, some of whom he believes are unfit to teach.
Tell me about your background before you became an ADI.
I started in electronics as an assembly worker and then became a 7.5 tonne lorry driver before finally settling down as a web developer, creating websites for some big brands such as NEC, Marlboro Yamaha Racing Team and Northern Power Grid. I felt I couldn't keep up with the ever-changing IT market though so decided to try and achieve my lifelong dream of becoming an ADI in 2016.
Why did you make the move into instructing?
I have always wanted to be an ADI and help people achieve a lifelong skill that will improve their lives in so many ways. You never forget your driving instructor do you? Plus web development wasn't giving me a sense of worth – or to the people I helped as a developer.
What kind of ADI are you?
I think only my pupils can answer that one! From the feedback I receive though, I am told that I am patient and caring plus I don't bully people into doing things the 'right' way. Instead, I try to encourage my pupils to work things out for themselves – that way, they won't forget it.
What is your teaching style?
My pupils say I am so laid back, I might fall over. I also let my pupils make mistakes so they can learn from them. Unfortunately, that does mean my car spends a bit of time in the garage for repairs! If it is a safety critical issue though, obviously I won't let students make those mistakes for themselves.
What's your favourite and least favourite part of the job?
They actually happen at the same time – test day! It's such an awesome feeling when someone passes especially if they have had some mountains to climb during their lessons. For instance, I had one guy who just could not steer to save his life. We spent about four weeks just turning left and right on a trading estate and eventually worked out why – and he just got it. He went on to pass first time!
As for least favourite, I hate test day as I am more nervous than my pupils. If I am asked to sit in, I sit with my fingers crossed all the way and when they make a serious mistake, a little piece of me dies inside.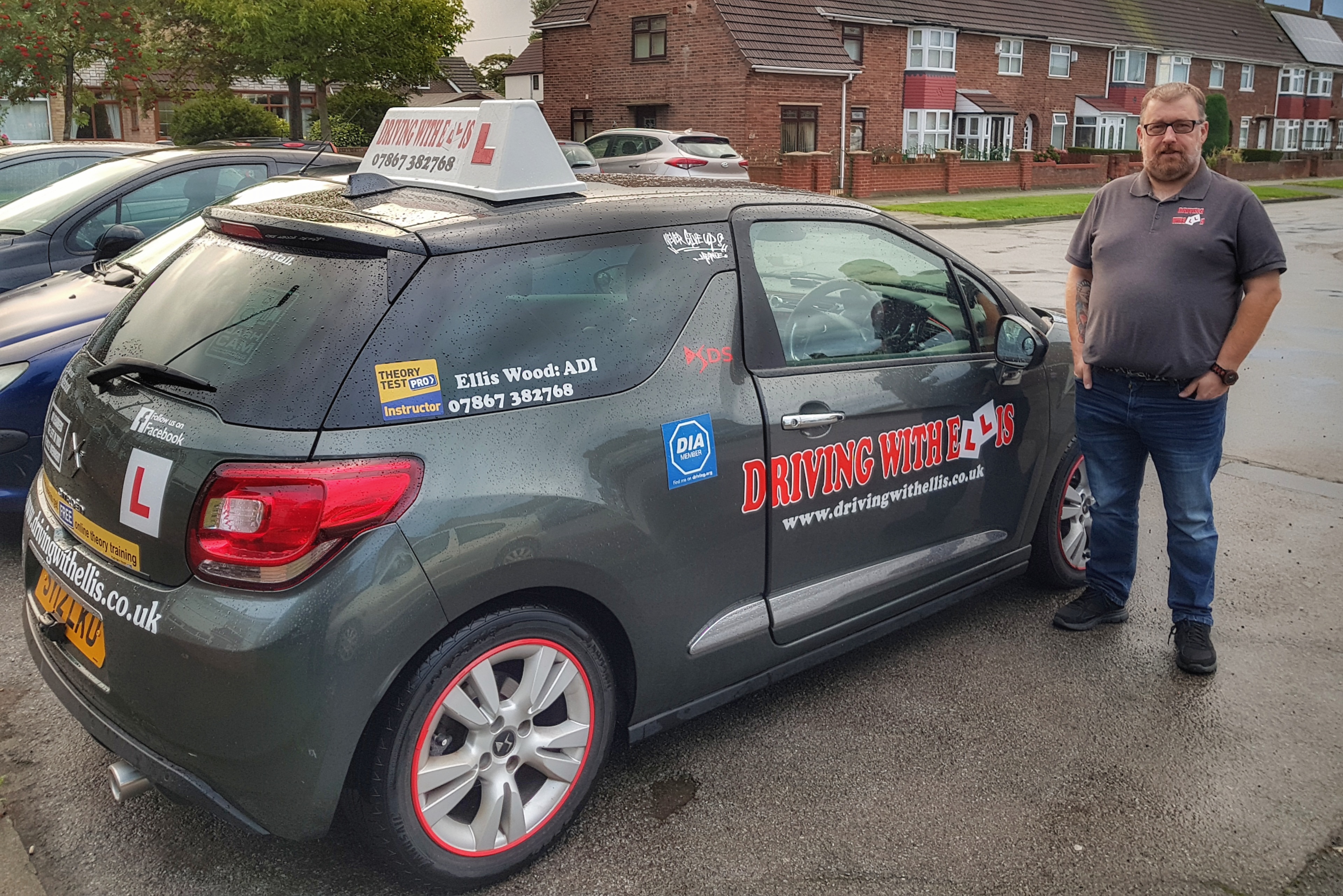 You had a tough time learning to become an instructor. What were some of the problems you experienced?
This industry seems to have a fair few trainers who just want your money. I saw an advert for bespoke training with a pass guarantee and awesome after-training packages for advertising and marketing my services. It was expensive but I thought to myself: "You get what you pay for". So I signed up but after a while, it was clear how the trainer 'operated' and I got most of my money back because I paid with my credit card.
How were you ripped off?
The guy basically charged me £3,000 and sent me 4-5 books worth about £150. Then they sold my training to another company who supplied me with a trainer that I had to travel to and who had never trained anyone before me. Don't get me wrong – he was a great guy and a great ADI who I now consider a friend and he gave me some top class training but I didn't choose the company to train me. I stayed with them but failed my first attempt. I then booked my second attempt and went to a different trainer.
I got most of the way through but was then approached by a company who were to become legendary in the business for their conduct. They convinced me to cancel my second attempt and become a PDI with them.
They supplied me with a car and a couple of pupils – literally two pupils – and then started to charge me £199 a week for the franchise. Clearly I could not pay but was tied to them for months. Eventually I returned their car and they tried to chase me for £5,000 worth of franchise fees I couldn't pay. Luckily I had a paper trail showing the salesman had said I could walk away without penalty at any time.
I ended up back at the subcontractor from the previous company who took over my PDI badge and finished my training. I had to pay an extra £300 for the privilege but I passed my next Part Three so it was happy days!
How would you rectify the issue of bad trainers?
I strongly believe that all trainers should be ORDIT-registered at the least, and all training suppliers should have annual inspections or random checks where the DVSA speaks to current and former pupils chosen by the agency. Records should be precisely kept and supplied on request.
Finally, as a user of Theory Test Pro, how do you find the system helps your students?
My pupils always love the fact they get something as important as Theory Test Pro for free. They love the software and I've had great results from pupils using it. Sure, I still get pupils using alternative software and fewer still who 'wing it', but there is a definite benefit not only for me but for my pupils who spend a lot of money with me and don't have to fork out any more money on extras.
Those that struggle with theory training ring me up and I occasionally call round to go through what they are doing and more often than not, I walk away telling them they are doing a great job without me. I can also use the software to identify areas where they are struggling and we try to incorporate that into our lessons.
For example, a pupil recently said they could never remember how reflective studs are placed. So we drove to our nearest dual carriageway, the A19, and saw them in reality, which really helped her remember. Hopefully she will pass her theory tomorrow but I bet that question won't come up though!