Examiners and driving test staff are increasingly on the receiving end of verbal abuse and even physical assault from learners who fail their test, and the Driving & Vehicle Standards Agency (DVSA) has had enough, launching a zero tolerance campaign to take down offenders.
According to statistics released by the DVSA, over 300 driving examiners, vehicle testers and roadside enforcement staff have either been physically or verbally abused while doing their jobs. Most worryingly, the number of incidents represents more than a 50% increase from last year, which saw 198 incidents. Other data reveals that in 2016, examiners were on the receiving end of 236 verbal assaults and 13 physical assaults.
Assaults rising
Abusive behaviour can come in many different forms including "failed driving test candidates even driving off with their examiner still in the car against their will", says the DVSA. Other media-reported incidents include a learner smashing up a waiting room before attacking workers.
An examiner also found himself having to flee a learner by hopping on a bus and another was punched twice in the face, his assailant subsequently locked up for six months. Even instructors aren't safe – one learner chased both his ADI and examiner, yelling at them: "All I have to do is make one phone call and you are both dead. I will kill you."
It makes for shocking reading and it's why the DVSA has now launched a new campaign that highlights how the agency will protect its 4,600 staff from such abusive behaviour.
Clamp down
If you're a learner and are caught swearing at staff after a failed test, you can expect to be dealt with quickly and abruptly; you will be forced to take your next test at another centre and will need to have an extra supervisor present in the test car. Any learner who is found to be threatening or assaulting an examiner – or drives off with them against their will – will be reported to the police and "face the strongest possible penalties", says the DVSA.
And it's not just students who are being abusive. Though rare, the agency says that driving instructors have been known to try and influence the outcome of a driving test, sometimes harassing or even threatening examiners after their student has failed. Again, the outcome for the instructor will be swift and severe; first they will be banned from specific test centres and secondly, they will be struck off the approved driving instructor register.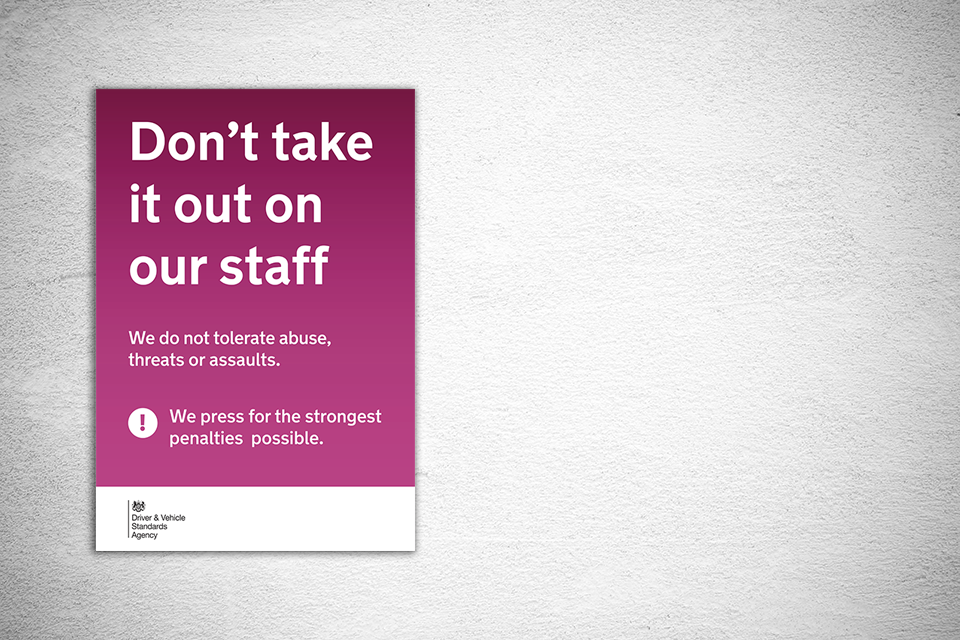 Taking safety seriously
According to news reports, the agency is also considering fitting examiners with body cams in future to protect them from assaults with the DVSA trialling the technology on some of its frontline staff. Whatever the outcome of the trials, the message is clear – for the minority of learners who lose their rag because they couldn't muster a pass, such behaviour will not be tolerated.
I am immensely proud of my colleagues at DVSA, all of whom work incredibly hard to help you stay safe on Britain's roads. We do not tolerate anyone abusing, threatening or assaulting them. Our message is clear – whatever has happened, don't take it out on our staff. If you do, we'll press for the strongest possible penalties."

– Gareth Llewellyn, DVSA Chief Executive
Prepare For Your Test
Double your chances of theory test success with Theory Test Pro –
sign up for free here
!