After surveying driving instructors across the country, the AA is now calling for potholes to be featured in the hazard perception test and for official guidance to be included in the Highway Code
Potholes are the curse of Britain's roads with one in five of our roads riddled with them and experts are predicting that if they are not dealt with soon, the effected roads could become unusable. The worsening situation is getting so bad, the AA is now calling for potholes to be introduced into the hazard perception test so candidates can demonstrate that they know how to spot them.
The breakdown specialist is also asking for official advice on how to safely steer round potholes to be included in the Highway Code.
A National Epidemic
The perils of potholes are well known, ruining tyres, alloys, suspension and more with drivers turning to the authorities to cough up compensation for any damage done to their cars. So prolific is the ongoing spread of potholes that motorists whose cars have been damaged by a pothole were paid half a million quid more in compensation by UK authorities compared to last year. Research shows there's also been a 11% increase in breakdowns caused by rubbish roads.
Worse still is that the potholes are getting deeper as they are left unrepaired with The Sun newspaper reporting that one has been found that is knee deep! While the government and its critics argue over how much money is needed to fix the issue – latest estimates place the cost at £9.3 billon – it's not only leaving motorists stranded at the side of the road, but also learners.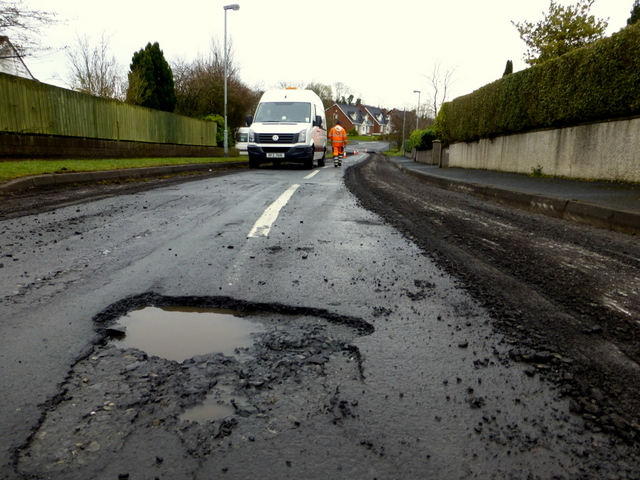 Lessons & Tests Potholed
According to am AA survey of AA Driving School and BSM instructors, everyone who responded said that they come across roads riddled with potholes in most or every lesson. To make matters worse, instructors say that they have ended up with a broken down car caused by potholes at least once in the past year.
It's led to many instructors changing lesson plans to give notoriously potholed roads a wide berth. Pupils have also had to quit their driving tests part way through because their car has been damaged by a pothole. Specific pothole-related anecdotes uncovered by the AA's research include:
• An instructor needing to purchase two new tyres since the end of November thanks to pothole damage
• Examiners being forced to point out potholes to candidates so they can be avoided
• Three tyres ruined in a single day according to one instructor because learners went through potholes.
With such a damning list of charges, Theory Test Pro believes that the AA is absolutely right to be calling for the changes to the theory test and the Highway Code; anything that can help learners become more aware of the perils of potholes can only be a good thing.
And with estimates stating that it will take at least 14 years to sort out the UK's potty problem, this is an issue that isn't going away anytime soon.
Lessons and tests are being abandoned because of pothole related breakdowns. This is damaging to learners' confidence and to instructors, whose livelihoods depend on having a fit-for-purpose road network and an undamaged car.

The situation is so serious that the hazard perception test and Highway Code need to change to reflect the state of the roads that learner drivers have to learn on. There is no advice for drivers about potholes anywhere in the Highway Code yet it is one of the most common hazards they encounter."

– Edmund King, AA President
How to Drive Over Potholes
It's a sad fact of driving life that you're going to come across a pothole, well, potholes at some point. If so:
• Apply the brakes if you can't avoid the pothole but ensure you release them before your wheel hits it; heavy braking applies forward pressure to the suspension and tyres, increasing the risk of damage to your car as you go over the pothole
• Make sure you keep your hands firmly on the steering wheel as you go over the pothole to stay in control
• Keep the car straight as you go over the pothole as well as hitting it at an angle can increase the risk of damage
• Avoid suddenly steering away from the pothole; you could end up veering into the other lane which could put other road users' lives in danger.

Main image © Mike Mozart.
Van © Kenneth Allen and licensed for reuse under this Creative Commons Licence.